Pakistan Apostolate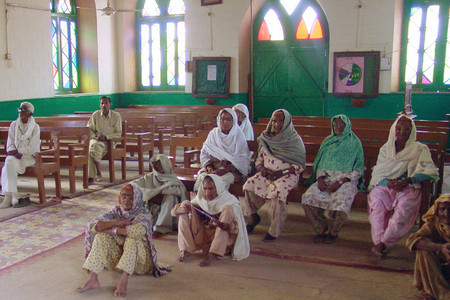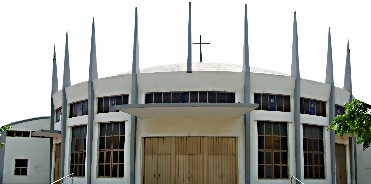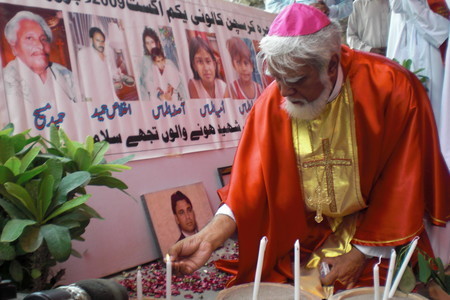 Our Books in Pakistan
The two books, Making God the Joy of Our Soul and A Little Butterfly Who Loved Jesus, which were sponsored by your group for translation into Urdu language and published in Pakistan, have made deep impacts on the many souls of Pakistani people. Our Bishop Joseph, our parish Priest Fr. Anjum, our prayer group, Pakistani Heirs of God, and many people, priests and nuns appreciate it very much and thankful for this wonderful support in learning by such stories and experiences. In many Churches of our diocese and other dioceses the books are distributed free of cost and the priest and catechists have been using it for their lectures at Church and home visits. Personally I have heard the same story lecture even in other diocesan Church when I was at Mass. These are very fruitful books which makes the joy of our souls. The books are now a part of syllabus at one Bible Studies Institute and in three private Christian schools of Pakistan. Thanks for your "gift" of His teachings.

Naveed Walter
President,
Human Rights Focus Pakistan
P.O.Box.295, GPO.Faisalabad.Pakistan
Website: www.hrfp.org
Christmas Event
This past year, HRFP arranged a Christmas event on December 18, 2011 at St. Fidelis Parish of Faisalabad Diocese. The 300-500 widows, orphans, disabled and the poorest of the poor were invited. These people are Catholics/Christians and are very neglected and ignored in society. They were gifted by us in shape of food items and financial assistance so they could eat good food on Christmas with their families. Otherwise they are not able to eat good food even on Christmas. It was an event of Fun & Joy with special Mass led by our Bishop, Parish Priest and Dominican sisters. We ask your prayers and support. Your SOLIDARITY can make successful our events and aims to help the poor Christians of Pakistan in the coming year. Thanks a lot.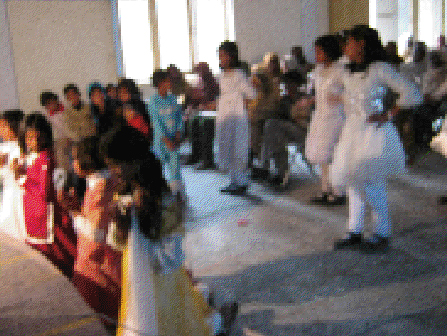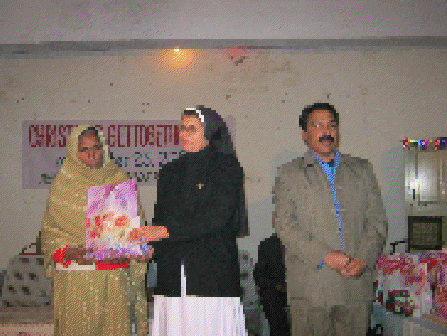 Your financial contributions are greatly appreciated and may be made through Human Rights Focus Pakistan
Persecutions Against Christians
We, the Pakistani Christians, are persecuted because of our faith and belief in Jesus Christ. The Churches, the Christian colonies, and individuals are attacked by Islamic militants . More than 1000 people have been accused in blasphemy cases, hundreds are in jails and many have been killed. The common Christians are easy targets but especially the activists, leaders, priests and human rights defenders who belong to Christianity.

Even if some Muslim leader or activist supports a Christian victim, he will also be accused in blasphemy cases. The same happened recently with Mr. Salman Taseer(Governor Punjab of Pakistan ) who defended a Christian woman, Asia Bibi. She was accused and sentenced to death for allegedly insulting Islam under the blasphemy law. The Islamic groups then announced that Salman Taseer is a blasphemer and that he had to be killed because he supported a "blasphemer" woman. Mr.Salman Taseer was murdered on January 4th, 2011 by his own body guard, Mumtaz Hussain Qadri, with the backing of an Islamic group. His killer has confessed and is in jail, but the court still has not given him punishment because the courts are afraid too of the militants. Mr. Shahbaz Bhatti ( Federal Minister for Minorities Affairs) was also assassinated on March 2, 2011 because he favored the release of Asia Bibi & the repeal of the blasphemy laws.

No one Christian, Church, or activist is safe. I am also getting threats for our work supporting Christians who are persecuted because of blasphemy laws. We raise a voice in their favor nationally and internationally. Please keep me, my family and our group, Human Rights Focus Pakistan (HRFP), in your prayers. Thank you for your good will and support. I am committed, and the CROSS leads me always.

Sincerely,
Naveed Walter